Piranha by Bob Braden
Awesome work by the one and only Legendary Bob Braden! Bold and bright new school tattoos are one of Bob's favorite styles to do.
The best way to predict your future is to create it.
– Abraham Lincoln
Print Job of the Month!
Kaylee Collection
This month we are highlighting a print job from one of our Legendary Artist's Clothing Collection! It is all in the details with this neotraditional design.
Meet Ty… Graphic Designer/ Printing Technician!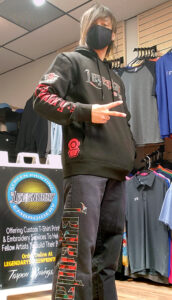 "Hi, my name is Ty – The Legendary Ninja"
At Legendary, Ty has been an invaluable asset since September 2022. As part of the Legendary Screen-Printing Team, Ty's primary responsibility is to prepare designs for Direct-to-Film printing and create eye-catching design mockups. But it doesn't stop there… read more